Air Queen Breeze FFP2 nano filter mask
CE, FDA & Halal certified



Filter efficiency: ≥97%
Nano filter: Filters particles up 0,1µm
Filter system: 3 filter layers for extra safety
Breath easy with extra low inhalation- and exhalation-resistance
Standard: EN 149:2001 + A1:2009 FFP2 NR
Certificate No.: 2163-PPE-1433
Size: B 75mm, L 207mm
Weight: only 4,38 Gramm
Storage: min. 36 months
Packaging: For maximum safety, each mask is delivered sterile and in individually sealed packaging.
Container: Contains 10 pieces of masks
Carton: Contains 600 pieces of masks
Air Queen° nano-filter technology – filters particles down to 0,1µm

>97% particle filtration (exceeding the 95% threshold for FFP2/N95)

FFP2 certified mask (FDA-approved N95 equivalent)

CE, FDA and Halal certified

Certified and tested according to highest quality standards
High filter durability & moisture resistance

Breathe easy – with lowest breath resistance

Perfect tight fit with nose and chin cover

No more extensive fog on glasses

Ultra-light and maximum comfort with only 4,38g weight
Breathable 3-layer nano filter

Skin comfort / very good skin compatibility

Exact fit with wide nosepiece for different face shapes

Comfortable elastic earband
Safe & reliable.
Internationally
certified.
CE certification
Air Queen nano masks are CE FFP2 certified.
Certificate holder: TOPTEC CO., LTD.
Certificate nr: 2163-PPE-1433
EN 149+A1:2009 module B, EU type examination certificate
Verify CE certification here!
HALAL certification
Air Queen masks are certified by the Korea Halal Authority"KHA" according to KHAS-29000 general standards for industrial halal products. Certification No: KHA-20F-00362904

The Air Queen mask in comparison
Comparison standard
N95
KF94
AIR QUEEN
Country
USA
Korea
Korea
Filter performance
(has to be ≥ X% efficient)
≥95%
≥94%
≥97%
Test agent
NaCl
NaCl and paraffin oil
NaCl and paraffin oil
Flow rate
85L/min
95L/min
95L/min
Totale Inward Leakage  (TIL)*
tested with humans while
physical exercise
N/A
≤ 8% Leakage
(arithmetic mean)
≤ 2.5% Leakage
(arithmetic mean)
Inhalation resistance
(max pressure drop)
≤ 348 Pa
≤ 70Pa (at 30L/min)
≤ 240 Pa (at 95L/min)
≤ 33Pa (at 30L/min)
≤ 112 Pa (at 95L/min)
Flow rate
85L/min
Varying – see above
Varying – see above
Exhalation resistance
(max pressure drop)
≤ 245 Pa
≤ 300 Pa
≤ 175.1 Pa
Flow rate
85L/min
160L/min
N/A

Exhalation

 valve leakage


requirements

Leak rate ≤ 30L/min
Visual inspection after
300L/min for 30 sec
N/A
Applied force
-245 Pa
N/A
N/A

Co2 clearance requirements

N/A
≤ 1%
≤ 1%
Information according to manufacturer
Manufacturer certificates
How it works?
Use Air Queen masks safely – in a few simple and intuitive steps …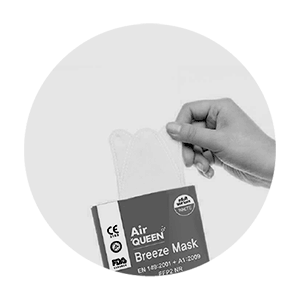 Open the sealed package and pull out your Air Queen mask.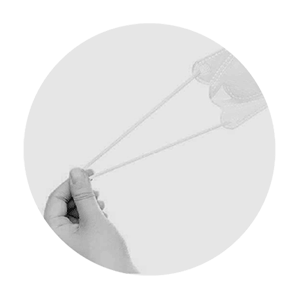 Gently pull the straps of your Air Queen mask to avoid tangling.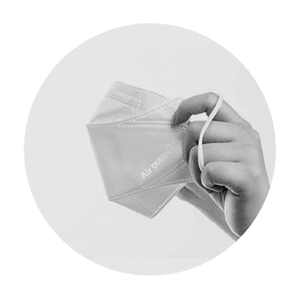 Open your Air Queen mask so that it looks like a scoop. The imprint of the certification should always be on the outside.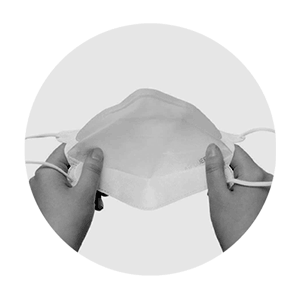 Now hold your Air Queen FFP2 mask by the tabs and put them on.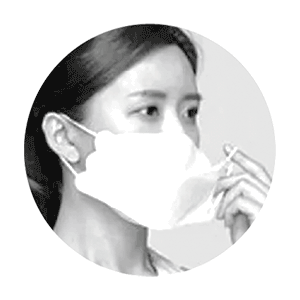 5. Cover your nose, mouth and chin
Make sure you cover your nose, mouth and chin with the mask when you put it on.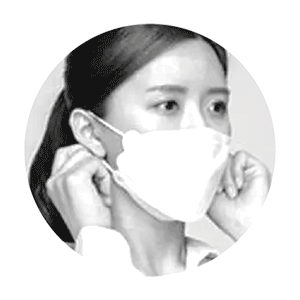 Now fasten the mask with the elastic straps behind your ears or with the help of the quick release.
Now shape the nose clip along your nose so that the mask fits you as closely as possible.
Tip: The mask fits perfectly if there is a slight but noticeable suction on the mask while you breathe in – or the mask inflates a little bit when you exhale.
You want to buy Air Queen masks? Then you have come to the right place. We only sell the original (no B-stock!), Individually packed & sealed and manufactured according to the highest safety standards. Air Queen Europe – your trusted partner.